"Danny Paid Off Alyssa's Car"
Payment History Under Bank's Old System
High Resolution Copies
If you want to read the background of this issue, how Dr. Walt Thompson made the claim that Danny Shelton had "paid off the remaining debt on ... [Alyssa's] car," see our low resolution web page.
Payments in March and April 2005
This first sheet shows a starting balance on March 16, 2005, of $7,639.34. The April 15, 2005, payment reduced the loan balance down to $7,028.47.
Both payments shown on this sheet consist of a total of $357.36 ($295.76 principal + $61.60 interest; $315.11 principal + $42.25 interest).
No payoff on this sheet is shown.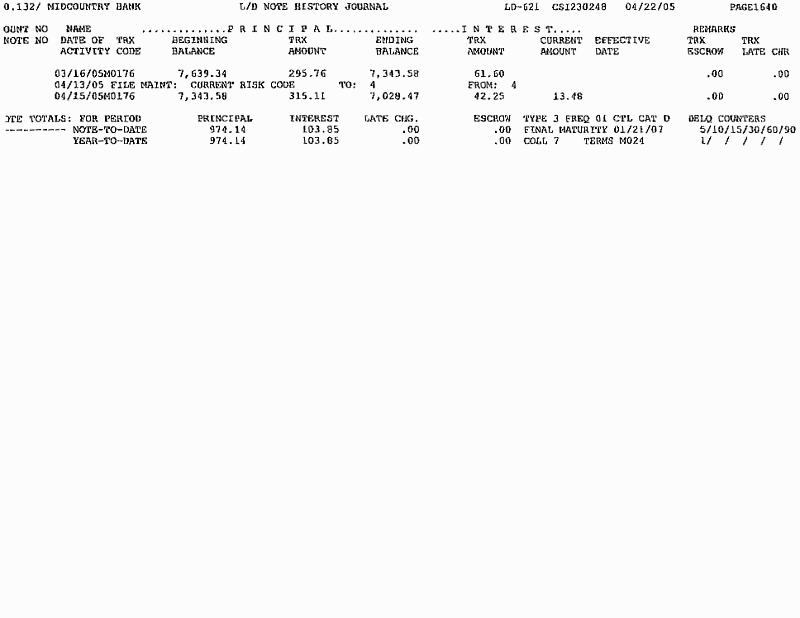 Payment History Since Bank's New System in Place
Payments from September 2005 Through March 2006
Somehow with the transition from the old system to the new system, we did not receive any records for the period of time between April 15, 2005, and September 19, 2005. The principal still due declined in that time period by $1,278.61 (from $7,028.47 to $5,749.86), and the September 19, 2005, payment reduced the balance down by $315.45 to $5,434.41. The monthly payment is clearly $357.36, which is what it was back in April 2005.
The reduction in principal of the amount of $1,278.61 can be accounted for by the four normal monthly payments made in May, June, July, and August, each reducing the principal by a tad more than $300.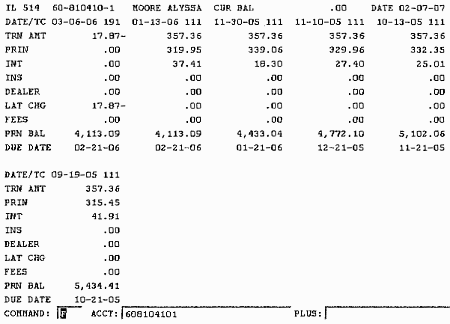 Payments from March 2006 Through October 2006
On May 16 and June 13, 2006, the dates of Dr. Thompson's emails, there remained balances of $2,766.23 and $2,427.44 respectively, as can be seen from the third and final page of the payment history on Alyssa's car.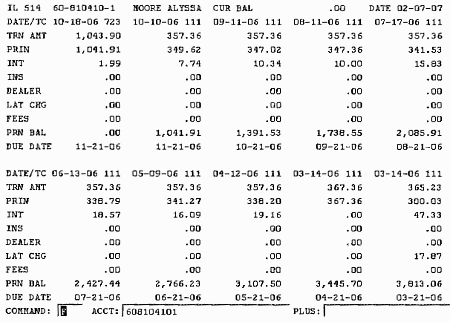 Thus we find no evidence to support Dr. Walt Thompson's May and June 2006 claims that Danny paid off the remaining debt on Alyssa's car. Can someone please explain this discrepancy?