"Danny Paid Off Linda's Car"
One could easily assume that Dr. Walt Thompson gets his information regarding what Danny Shelton has done for Linda straight from Danny himself. Thus, if we find a clear, unequivocal, major discrepancy in such information, while it would raise questions about the accuracy of some of Dr. Thompson's claims, it might also be further evidence that not everything Danny says is true.
Consider carefully Dr. Walt Thompson's claims made on June 13, 2006, and compare them with Linda Shelton's counterclaims. Then, examine the Linda's car loan's payment history, faxed directly from the lending bank, as it appears below the two emails.
Dr. Walt Thompson's Claims
-------- Original Message --------


From:
Walt Thompson
Subject:
Re: 3abn
Date:
Tue, 13 Jun 2006 21:24:27 -0500

Dear ******,

Thank you for your e mail sharing your frustrations with 3ABN. It is understandable that you may feel frustrated regarding the breakup of Danny and Linda. You are not alone. ...

...

Just to make this letter a bit more complete, let me tell you what I know about Danny's attempt to save Linda for himself - even after the divorce papers were signed. He paid off the remaining debt on her new car, her daughter's car, all of the credit cards, and other joint bills. He bought her interest in the house, helped her move to Southern Illinois, build a porch on her home there, gave her all of the things in their home including things that were really his. (He did these things with money obtained in a loan from a friend.) Over and over again he took her out to eat and did many other things to show how much he really cared for her. In fact, many of the employees and some of us on the board were concerned because of how she was leading him on and keeping him in turmoil. Over and over, she threatened him, saying, that if she was going down, she would bring him and the ministry down with him.

...

I hope this helps to clear the confusion. NO ONE at 3ABN wanted to get rid of Linda, least of all, Danny. ... If you have further questions or need further evidence, please let me know.

Sincerely in Jesus' precious name,

Walter Thompson MD
Chairman, 3ABN Board
Linda Shelton's Counterclaims
-------- Original Message --------


From:
Linda Shelton
Subject:
RE: 3abn questions
Date:
Wed, 20 Dec 2006 15:18:34 -0700

... I will answer your questions.

...

3) He did not pay off my car, nor did he make any payments towards the car the last 2 1/2 years...but I did hear he bought Brandy a new car...before they were married.

4) No, he did not pay off my daughter's car.

5) No, he did not pay off all of the credit card bills...this is a subject for our divorce case which is pending.

6) Yes, he did buy my half of the house.

7) Well, I guess if you can call bringing truckloads of my clothes and dumping them on my living room floor "helping me move" to Carbondale, then he helped me move. At that time I was locked out of the house and the only things I got were the things he allowed me to have.

8) Yes, he did build a porch on to my mobile home in Carbondale.

9) No, he did not give me "all of the things in the home..." He has all of the furniture, the boat, the jacuzzi, the sauna, about 18 Gibson guitars, the horses, horse trailor, etc...subject to divorce case which is pending.

10) We did meet occasionally in Marion at a restaurant to discuss the issues.

11) No, I never said such an ungodly thing.

12) No, we never bought or owned a second Toyota vehicle.

...

I am still much in prayer about this "whole thing." The Church at large is affected big-time by all of this. This must be the first concern.

Blessings to you and yours,

Linda Shelton
Payment History Under Bank's Old System
Low Resolution Copies
If the print is too small on the first two payment history pages, consider our high resolution web page.
Payments from January 2003 Through January 2005
We know from the automobile title that Linda's Toyota Sequoia was purchased on December 30, 2002. While the automobile is titled in Linda's name only, the loan is in both their names.
This first sheet shows a start date for the loan of January 3, 2003. January 27, 2003, is the first payment, and consists of $453.50 principal and $134.89 interest, or in other words, a total payment of $588.39.
No payoff on this sheet is shown.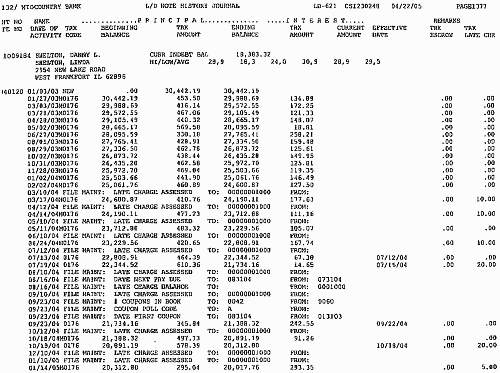 Payments from January 2005 Through April 2005
No payoff of the loan shown here either. As of April 2005, the principal of the loan is down to $18,383.32.
Payment History Since Bank's New System in Place
Payments from August 2005 Through November 2005
Somehow with the transition from the old system to the new system, we did not receive any records for the period of time between April 13, 2005, and August 25, 2005. The principal still due declined in that time period from $18,383.32 to $15,878.64, and the first August 25, 2005, payment reduced the balance down by $489.37 to $15,389.27. The monthly payment is clearly $588.39, exactly what it was back in January 2003.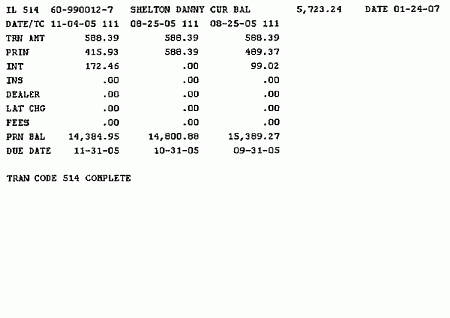 Payments from November 2005 Through August 2006
On June 13, 2006, the date of Dr. Thompson's email, there remained a balance of $10,095.41.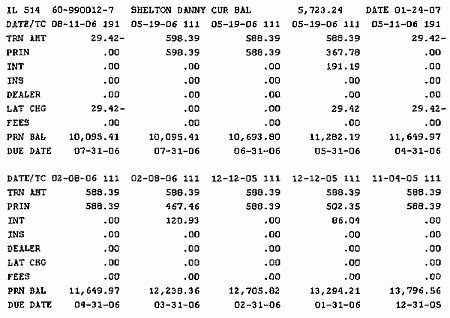 Payments from August 2006 Through January 2007
This sheet shows a remaining balance of $5,723.24.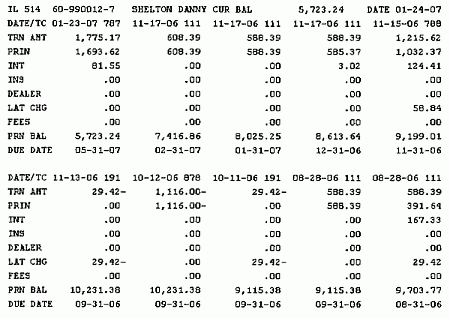 If there is an explanation for this discrepancy, we would be extremely glad to hear what it is.