"I Have Proof That It Is Titled to Both She and I"
Danny's Statement
Here is the pertinent excerpt taken from page one of "I Have Proof That It Is Titled to Both She and I."
-------- Original Message --------


From:
Danny Shelton
To:
G. Arthur Joy
Subject:
Re:
Date:
Wed, 11 Oct 2006 08:08:33 -0500

...

Gailon,

...

I decided to go look in her car for any evidence to support the PI's claim that had not been mailed to me yet. Our car door was locked. Yes, I'm aware that she claims it was her car but I have proof that it is titled to both she and I even unto this day. She didn't apparently remember that I too had keys to this Toyota Sequoia. I opened the car door and opened the glove compartment. ...

... at which point she yelled out, "I can't believe you broke into my car and got into my personal belongings! This is abuse!"

...

Danny
The Title Itself
For those who wonder why the title says "Void" on it, whenever a title is reproduced as a fax or photocopy, the word "Void" appears because of a built-in security feature. It does not mean that the title that was faxed or copied is invalid.
Below is a high-resolution copy of Linda's Toyota Sequoia's title, sent directly to us by the lending bank. Several facts may be noted:
The automobile's VIN is of a 2003 Toyota Sequoia Limited, which fits Danny's story. (For security purposes we have blacked out a portion of the VIN number as well as the title number.)
The vehicle was bought on December 30, 2002.
The title shown was issued on February 11, 2003, and is the same title on file with the lending bank today.
Thus Danny's name has not been on the title since February 11, 2003, a year before Linda's alleged affair.
Additional information from the VIN is that the vehicle in question is a "4 DR. WAGON/SPORT UTILITY" with a "4.7L V8 FI DOHC 32V" engine, and that it was manufactured in the U.S.A.
A screen that shows information from the CyberDriveIllinois website appears below the title.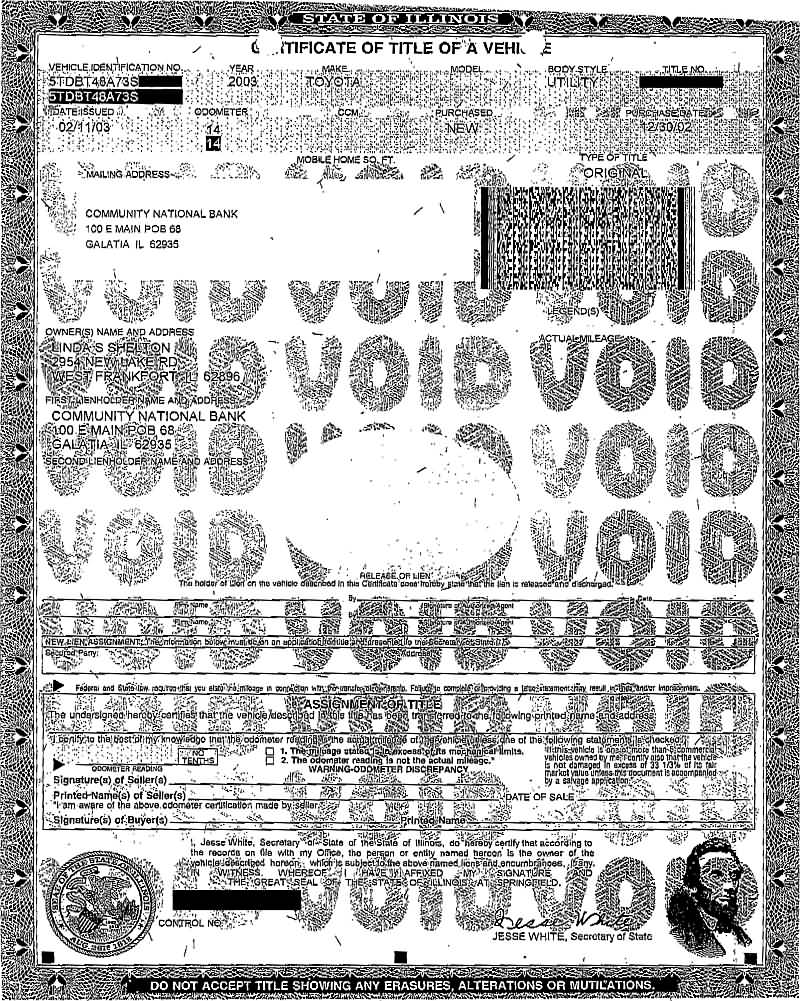 CyberDriveIllinois Information
The screen below shows information about Linda's Toyota Sequoia. It gives the same title issuance date as the title above shows. It specifically states that more than one owner does not own this vehicle.
A valid question is, when Danny Shelton claims to have evidence that his ex-wife had an affair but refuses to show that evidence, might we conclude that his evidence is likely as solid as his proof that Linda's Toyota Sequoia is titled in his name as well as hers?